Read Time:
3 Minute, 20 Second
Home Business Magazine Online
Vertagear's Racing Series S-Line SL5000 Gaming Chair in Black / Midnight Blue (Model VG-SL500SE_MB) hits the sweet spot for extreme gamers. The racing-style gaming chair empowers one's everyday gaming with the right multi-functional features. Its design gives a wide range of adjustability that provides gamers with the best comfort and ergonomic support in every position for extended periods. In addition, its high backrest design provides greater neck, shoulder, and lumbar support.
VG-SL500SE_MB – A Great Choice for Gamers
For Vertagear, Forbes recently featured the VG-SL500SE_MB gaming chair as "a great choice for gamers" who want a Gaming Chair. The gaming chair holds a gamer up to 260 pounds, and it accomodates up to 6 '4 "in height. For Vertagear, the VG-SL500SE_MB gaming chair offers the following features:
Effortless Single-Person Assembly
Patented "Slide-in" hardware allows for a quick and easy single-person assembly. As a result, simply sliding the backrest into the seat, and this removes any alignment and hardware complexities.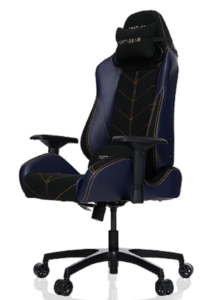 PUC Synthetic Faux Leather
PUC combines the best attributes of both PVC and PU synthetic faux-leather into one. It retains the durability of PVC for everyday use, but it maintains the softness of PU for comfort.
HygennX
(Black / Midnight Blue Exclusive)
The VG-SL500SE_MB gaming chair in Black / Midnight Blue is designed with HygennX. This is a patented coffee infused fiber that limits odor and increases breathability. In addition, it maintains bacteria control properties from silver thread. This prioritizes cleanliness and comfort in the areas most sat on during long hours of gaming.
Ultra-Premium High Resiliency (UPHR) Foam
The VG-SL500SE_MB gaming chair's Ultra Premium High Resilience (UPHR) Foam withstands 62% more pounds per cubic foot than industry standard. Furthermore, the UPHR foam prolongs the lifespan of the chair. It prevents deformities from long periods of use.
Penta RS1 Caster
Polyurethane (PU) coats the Penta RS1 Casters for soft and smooth gliding on any surface. The color of the casters match the chair.
Steel Frame
The integrated steel skeleton forms the shape of the gaming chair. It ensures long-term durability and includes a 10 year warranty.
Gas Elevator
The VG-SL500SE_MB gaming chair has support from an industrial grade class-4 gas lift. This provides extra adjustability. It sets the chair to a person's preferred height to prevent sore shoulders.
Aluminum Alloy 5 Star Base
Aluminum alloy fabricates the five star base. It provides provide strength, stability, lightweight construction, and lasting durability.
Lumbar Support and Neck Support
The VG-SL500SE_MB gaming chair comes with memory foam cushions for lumbar and neck support. Moreover, these are removable for adjustability and correct posturing.
Adjustable 4D Armrests
Adjustability extends to the armrests with 4 directional adjustments. The ergonomically designed armrests keep forearms comfortable and steady to prevent sore shoulders.
Adjustable Backrest
The VG-SL500SE_MB gaming chair features an independently adjustable backrest to adjust the angle of one's sitting position (up to 140 degrees).
Adjustable Tilt with Locking System
The chair's tilt tension is adaptable to body weight, allowing one to lean back with ease and comfort. In addition, the tilt mechanism is lockable at an upright position.
Adjustable Seat Height
The VG-SL500SE_MB gaming chair has a good range of seat adjustment and an ergonomic design to cater to a wide range of body shapes and heights.
Variety of Colors
Besides Black / Midnight Blue, The Vertagear Racing Series S-Line SL5000 Gaming Chair also comes in black / black, black / green, black / red, black / blue, black / white, and black / camo colors.
For More Information on the VG-SL500SE_MB Gaming Chair
The retail price for the VG-SL500SE_MB gaming chair is $ 459.99 For more information, visit https: // www. https://www.vertagear.com/products/sl5000-gaming-chair?variant=31305665118319
The post VG-SL500SE_MB Gaming Chair from Vertagear Racing Series S-Line appeared first on Home Business Magazine.