Read Time:
2 Minute, 51 Second
Home Business Magazine Online
Sick leave happens with anyone. Regardless of the exact reason for your temporary absence from work, it requires a Return to Work Note from a doctor. There is a certain procedure for returning to your daily duties. Read below to find out what to include a Return to Work Note and the requirements.
Elements of a Return to Work Note
Such a note is necessary to inform your employer of your return-to-work exact date and the reasons for the authorized absence for a certain period. It also explains that your health condition allows you to get back to your professional duties.
Each company may have different requirements for such documents. It is best to contact your personnel department. Ask what to include in the form. However, the standard Return to Work Note from doctor template has:
your full name and ID;
date of illness or injury happened;
date of examination and diagnosis;
your status (for example, that you return to work on the exact date, or, conversely, that you continue treatment with another healthcare provider);
restrictions (for example, to lift heavy loads);
treatment plan;
doctor's comments and recommendations; and
specialist's signature.
Some illnesses require a long recovery; however, you can partially fulfill your professional duties. Before asking for a Return to Work Note, contact your office for advice on which tasks you are able to perform according to your current condition and your doctor's advice. The nature of your illness determines your eligibility to request a phased return.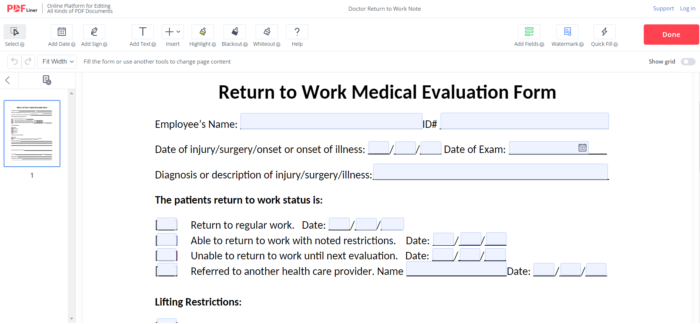 Writing Tips for a Return to Work Note
It is possible that a Return to Work Note includes different information. As a rule, these are dry facts about you and your sickness. But if you need help with the writing, follow these guidelines.
When composing a text, adhere to the formal style. Neither include the information that is not relevant in the document nor describe the course of your illness in detail. Your employer does not need such data.
Try not to use too many medical terms or abbreviations. Write it in plain language so that a recipient quickly finds the information they need.
Do not write notes in free form; instead, use official forms or templates with ready-made data fields.
The information in your document requires certification by an attending physician. It must contain the specialist signature and the seal of a medical institution.
Check the finished document for errors or typos, so it looks professional.
If you write the text yourself and give it to the doctor for signature later, check out the sample Return to Work Note, and include all the necessary information in it. If in doubt, request such a document from your treating specialist.
Follow Your Company's Requirements
Organizations have different requirements for doctors' notes. Ensure you follow them. In addition to an official document from your attending physician, also attach a letter of thanks to the management for allowing you to keep your work. Compliance with professional etiquette portrays you as a responsible specialist. What are the requirements for a Return to Work Note in your company? Do you need other papers as well? Leave your replies in the comments section below.
Based on an article by PDFLiner.
The post How to Write a Return to Work Note Like a Pro appeared first on Home Business Magazine.