Read Time:
8 Minute, 46 Second
Home Business Magazine Online
Having a modern wedding seems like quite the challenge. Few events are doused with as many traditions as the standard wedding, from "something blue" to the white wedding dress.
Striking out against the old-fashioned rituals to make their weddings unique often feels like an expensive endeavor. After all, going "off menu" with your requests often means working with a wider selection of vendors and making special requests that are costly.
Fortunately, there are ways to modernize your wedding without making a costly celebration even pricier. Today, we explore some of the steps to create the ultimate modern wedding, while sticking to your budget.
What Is a Modern Wedding?
The term "modern wedding" is often used to refer to any wedding celebration that avoids or replaces certain traditional activities and requirements. If you choose a modern wedding structure, you choose which traditions you want to maintain, and which you want to change to suit you. For instance, some traditions to reconsider include:
1. The Aisle Walk
Why not dance down the aisle with your bridesmaids, have your whole family give you away, or walk down the aisle as a couple, hand-in-hand?
2. The Music
Choose your own playlist free from any old-fashioned songs like the wedding march. You could even have a rock band play you down the aisle.
3. The Cake
Switch the huge wedding cake with a tower of donuts, or a pile of cupcakes. Alternatively, consider switching the regular cake for wheels of cheese.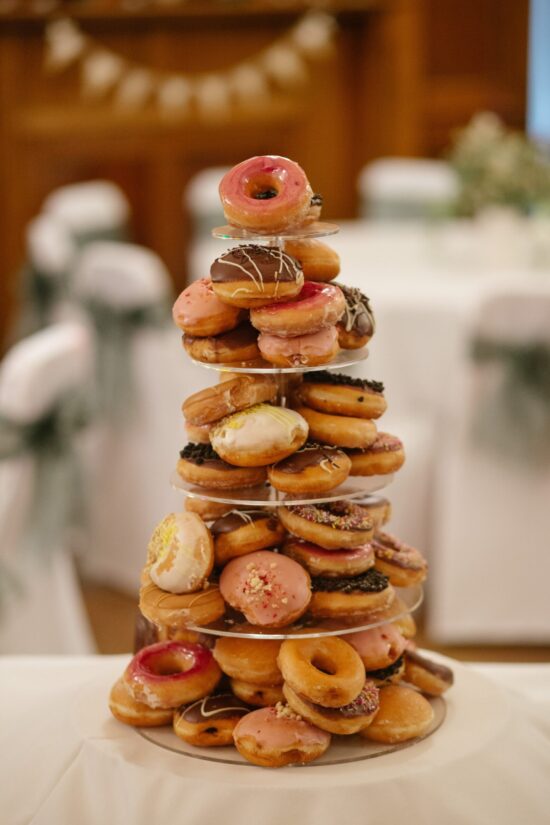 4. The Entertainment
Music or a live band is not the only way to get the party started. You could have a silent disco reception, a bouncy castle, or a firework display.
Modern weddings are all about shaking things up and creating your own idea of ​​the "perfect day" without being restricted by traditional rules.
Having a budget-friendly modern wedding need not be exhausting or complex as it seems. For most people, it is all about choosing priorities correctly and exploring your options. Here are some great ways to modernize your wedding.
Explore Modern Wedding Trends
In an age of Instagram and Pinterest, there is no shortage of fantastic trends emerging in the wedding landscape, thanks to creative people online. While trends are fun, and a great source of inspiration, try to avoid using too many different trends bundled together. Pick your favorite ideas and double-down on those to keep costs low, such as:
1. Using a Wedding Hashtag
Wedding hashtags are growing increasingly popular lately. Most modern brides and grooms know their guests are browsing the web when at the wedding anyway. It only makes sense to ensure they are still engaged in the event when they are on their phones.
A funny wedding hashtag like "SimplyMendezToBe" is a great way to get people talking, and it doesn't cost the world. Use the hashtag to ensure any photos and videos taken on your big day are easier to find at a later date.
2. Wedding Subscription Boxes
Consider making the countdown to your big day more exciting with a subscription box. These days, there are subscription boxes for everything from socks to underwear, so it makes sense you can get one for grooms and brides to be.
Your subscription boxes ensure you have everything you need for your big day, and they also provide you with some helpful inspiration when you struggle to find ways to add that special finishing touch to the celebration.
3. Honeymoon Registries
These days, with so many couples already living together before they get married, it is difficult to figure out what to put on a wedding registry. You don't need a new set of plates and cutlery if you lived in the same house for four years already.
Shake things up by asking your attendees to contribute to something else on your to-do list instead – like a honeymoon. Create a registry for your honeymoon where people donate to everything from spending money, to travel tickets and hotel room upgrades.
4. Alternative Wedding Attire
The white wedding dress does not work for everyone. Try switching up your outfit with different colors, or avoid wearing the dress entirely. Place every member of your bridal party in a different color, and choose a rainbow-colored wedding dress to add a splash of joy to your day, or wear shades of black and silver, instead.
Do not forget, there are also plenty of different styles of dress to explore, like short dresses, vintage dresses, and skirt and top combos, too.
5. Micro Weddings
Weddings do not have to be huge, flashy (and expensive) events; they can also be much smaller and more intimate occasions. A micro wedding is a fantastic way to keep costs low and to make the wedding feel more special. You only have 20 guests or less at one of these weddings, and the event usually does not last as long as a typical wedding day.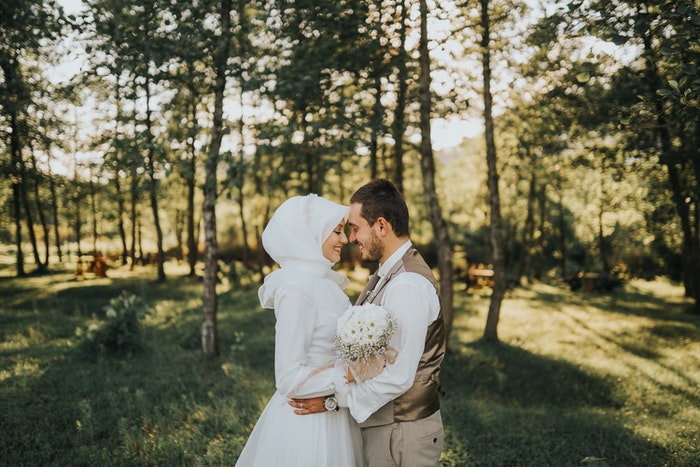 A micro wedding is an ideal option if you do not like the idea of ​​a huge celebration, or if you are not much of a party animal.
6. Destination Weddings
Another example of a slightly smaller wedding event – a destination wedding – involves traveling somewhere special for your big day. It doesn't mean having a wedding on a beach, either. Say your vows after climbing to the top of a cliff, or say them during a period of snorkeling in crystal clear ocean waters.
Usually, you only have a handful of people present at destination weddings, but the experience is enough to last a lifetime for all of you.
Modern Wedding Style Ideas
Sometimes, creating a modern wedding is less about the activities or location of your big day, and more about the style you use for decorations. There are plenty of great things to mix things up with your style, such as:
1. A Cottage Core (Bridgerton Theme)
Ideal if you are looking for a cozy and intimate wedding, the Bridgerton cottage core theme is increasingly popular in recent years. You even save money with less dramatic dresses and floral decor.
2. Stationery Kits
Get all of the stationary you need in one convenient kit, from the seating maps to the invitations, placement cards, and thank you letters. This way, you know everything matches, and you save some cash on shopping in different locations to find all of your must-have accessories.
3. Greenery over Flowers
Plants are just as beautiful as flowers if you want to get creative. Everything from trailing ivy to succulents help to add a more natural and rural vibe to your wedding. Greenery is also perfect for weddings celebrating a couple with a love of nature.
4. Monochrome
Keep things sleek and modern with a monochrome color theme. You can have everything from monochrome paper flowers to monochrome invitations, and even ask your attendees to dress in shades of gray.
5. Mismatched Bridal Party
Allow your bridal party members to wear different styles, colors, and dresses to show off their individual personalities. This is an excellent way to add more whimsy and texture to your wedding photos.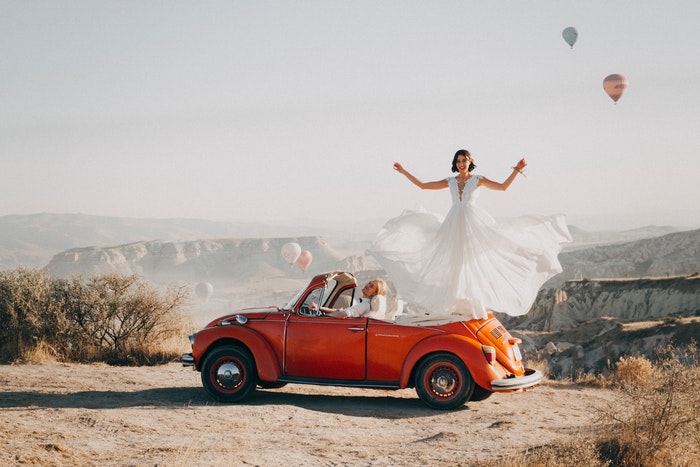 Modern Wedding Practices
Finally, if you think of using the activities of the day to make your wedding as modern as possible, there are great ways to shake tradition. Here are some excellent modern wedding practices to consider:
1. Child-Free Weddings
Children are great, but at times they are difficult to manage on a long day of wedding celebrations. Asking your loved ones to leave their younger family members at home makes the whole day less stressful and more laidback.
Child-free weddings also mean you need not worry about getting rowdy during the after party or choosing the wrong music for your reception.
2. Virtual Weddings
If you are looking to keep costs low, or you want to make sure everyone attends your wedding – even people you love from overseas – consider a virtual wedding. You still have an intimate celebration in-person with a handful of your nearest and dearest. However, ask the rest of your attendees to take part online.
You have everyone virtually stream yourself or yourself into your wedding, and even create a virtual reality experience for anyone who has a headset.
3. Split the Costs
Who says one person in the wedding pays for everything? Weddings are all about partnerships, so work together to save for all of the things you desperately want in your wedding celebration, and split the costs between both of you.
Spreading the cost evenly between both future spouses is a great way to set the marriage off on the right foot. It creates an atmosphere of partnership and equality. Choose a budget and buy each other's wedding rings or wedding outfits.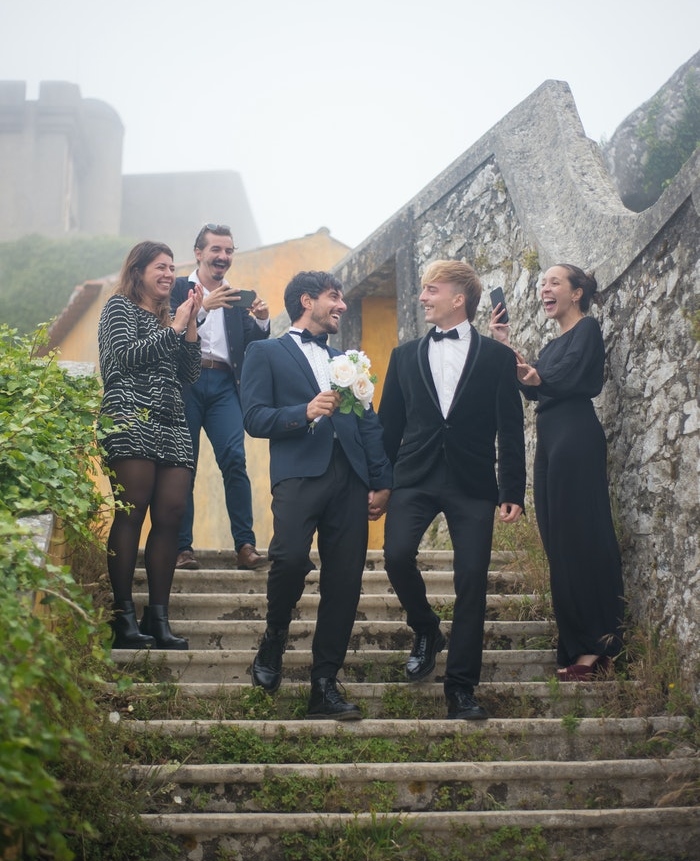 4. Don't Take a New Last Name
While taking the last name of your other half is a wonderful, romantic thing, it is also an exhausting and time-consuming process. Sometimes, you want to stick with the name you have, and this is an increasingly common practice with a lot of married couples.
Keep your own name entirely, but simply refer to yourself as "Mrs. if you are a woman, instead of "Miss." Alternatively, consider hyphenating your last name, so you keep the best of both worlds.
5. Create Your Own Ceremony
As long as you work with someone who has the authority to legally marry you and your partner, there is nothing to say your ceremony must follow the same script as everyone else. Ask your wedding official to change the words, add something unique to you, or switch up the promises you make to each other.
Get a friend or loved one ordained for the day to perform the wedding ceremony for you. This gives him / her a more important part in your life together.
Create Your Modern Wedding
A modern wedding is a wonderful alternative to dreary, old-fashioned, and traditional weddings, for forward-thinking couples. If you are not 100% smitten with the traditions you saw in other weddings, you are free to shake up all the parts of your wedding you like. Why not get a little more creative with your wedding?
The post How to Have a Modern Wedding in 2022 Without Breaking the Bank appeared first on Home Business Magazine.