Read Time:
9 Minute, 38 Second
Home Business Magazine Online
2022 is here and entrepreneurs everywhere are looking forward to Valentine's Day to celebrate loved ones. As Valentine's Day approaches, it is time to decide what gifts should be given to those we love that will make them feel loved and appreciated. How about one of these Valentine's Day gifts, which will be suitable for co-workers and suppliers of your business as well? Take a look through Home Business Magazine's Valentine's Day Gift Guide 2022 PART 1 OF 2 for a top-notch list of wonderful Valentine's Day gifts for loved ones on February 14, 2022. (Also check out Home Business Magazine's Valentine's Day Gift Guide 2022 PART 2 OF 2.)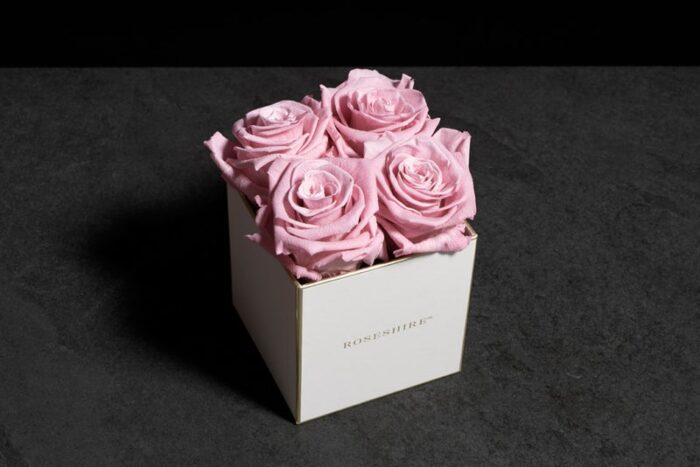 Valentine's Day Gift # 1: Roseshire
Give the one you love a special gift this Valentine's Day, with fresh roses from luxury rose delivery service, Roseshire! This Valentine's Day, Roseshire is offering an arrangement of bouquets as well as licensed and memorable packages in collaboration with Disney themed to the special holiday. Each bouquet is crafted beautifully with fresh roses that last at least 5-7 days. Each style is offered in 1 ($ 119) and 2 dozen ($ 219) options. Celebrity fans of the brand include Jessica Alba, Eva Longoria, Vanessa Hudgens, Big Sean, and more. From styles ranging from 1-2 dozen options and a wide range of color combinations, you can order your special roses on Roseshire.com.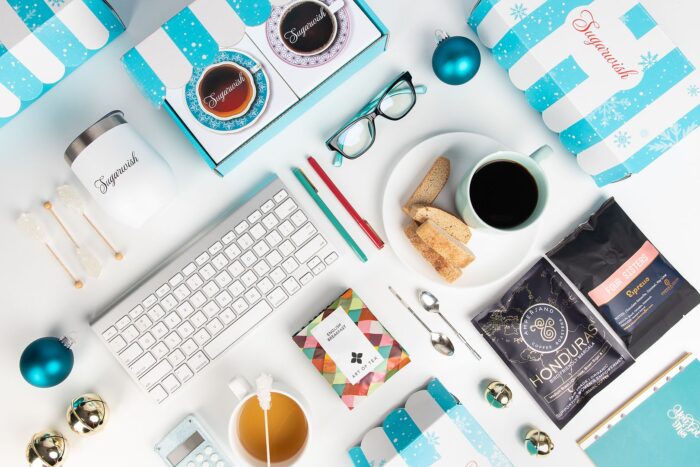 Valentine's Day Gift # 2: Sugarwish Coffee & Tea
Sugarwish has unveiled the best way to show your employees, customers and colleagues a whole Latte Love with the addition of its new coffee and tea gifts. Sugarwish is proud to work with 2 of the finest hand-selected Roasters and Fair Trade partners to offer premium single origin coffees, gourmet blends, and sustainable, organic Teas. Their coffee is globally sourced and roasted locally, letting them travel the world in one sip. The recipient will get to choose from 14+ brew-ti-ful flavors of single-origin coffees and gourmet blends in addition to 12+ delicious organic tea options).
The Large and XL gift size come with a beautiful Happiness mug (literally delivering Happiness in a box!). Recipients can add goodies to their gift delivery by choosing Biscotti (Almond, Truly Vanilla, Brownie Nut and Cinnamon Sugar) and / or Rock Sugar Stir Sticks. Sweet Happiness Delivered. Sugarwish Coffee / Tea gifts start at $ 22 Shipped. Large ($ 55) & Extra Large ($ 77) gifts arrive with a Happiness (heart-warming) mug. Visit https://sugarwish.com/us/products/coffeeandtea.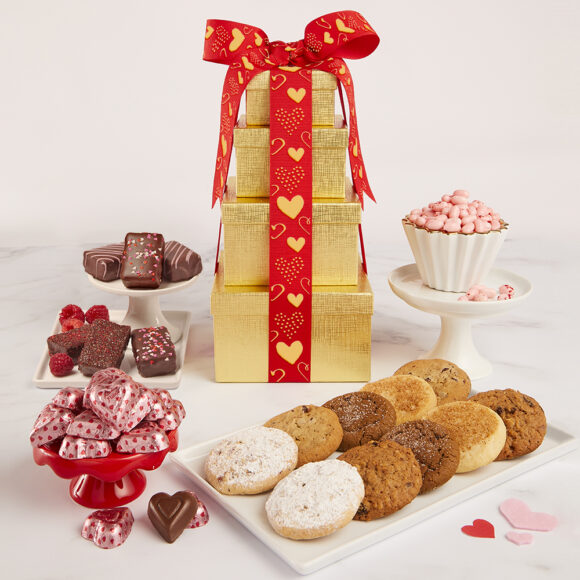 Valentine's Day Gift # 3: Bake Me A Wish!
If you have love to give, send them your best this Valentine's Day with a gourmet cake or confection from BakeMeAWish.com (BMAW), the leading national online gourmet gifting company. The delectable confections include new Happy Valentine's Day theme cakes and the wildly popular heart-shaped cake to make that special someone feel extra loved this Valentine's Day. Each heart-shaped cake will be decorated with the classic "Be Mine" Valentine's message. BakeMeAWish.com will help you send your message of love right with one of their mouthwatering romantic treats, such as the Solid Gold Valentine's Day Tower (seen in the image above), JUMBO Valentine's Day Cupcakes, and the Heart-shaped Cookie Tin. If you can't be with the one you love this year, receiving a gourmet bakery gift with overnight delivery from BakeMeAWish.com is a unique and heartfelt way to give your special someone a fresh-baked hug with love. Overnight delivery is guaranteed for those last-minute gifts. To order a gourmet bakery gift for family and friends for Valentine's Day, visit www.bakemeawish.com.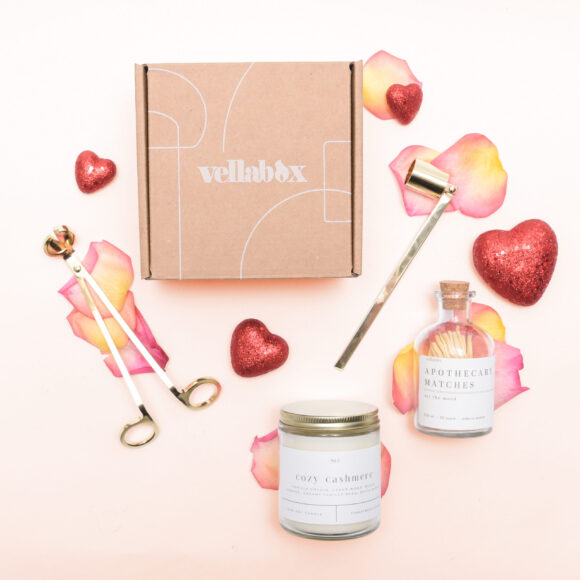 Valentine's Day Gift # 4: Vellabox Limited Edition V-Day Releases
Vellabox, a candle subscription and gifting platform, is offering a limited edition V-Day releases. The February Vellabox is sure to be well received by loved ones. Subscribers will receive 1 of 3 featured scents from Forget Me Not Candle based on their scent preferences. The three scents are Je T'aime – notes of jasmine, berry, tonka, bergamot, amber, Cozy Cashmere – notes of vanilla, cedar, sugar, white musk, and Winter Lodge – notes of fir, smoked woods, clove, peppercorn, herbs. The surprise item of the month is Essence One's Aromatherapy Shower Mist ($ 12 value).
The Moments Box is a customizable gift box with "I love you" and "You light up my life" theme options for V-Day. Curated Gift Boxes For V-Day enable people to gift their Galentine or Special Someone a themed candle with self-love products and organic chocolate. Options include: The Galentines Box, For Someone Special (him / them), and For Someone Special (her). Take 50% off your first box (with code FLASH50 – exp: 3/1/22). You can also get a free essentials kit with any 6 or 12-month sub (with code BEMINE – exp: 2/14/22). Check out their amazing options at www.vellabox.com.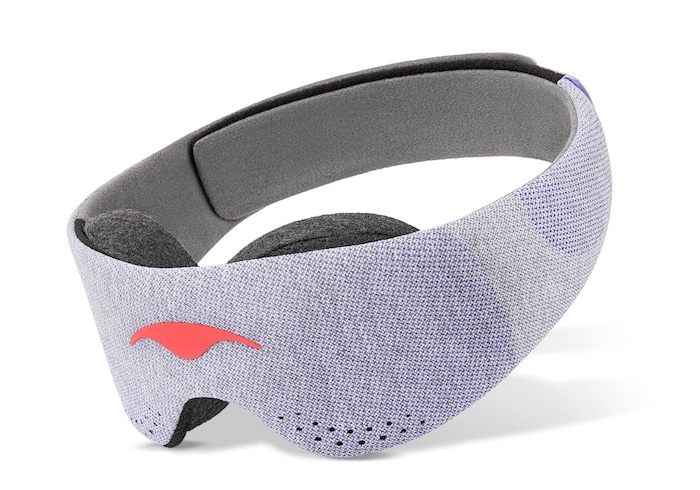 Valentine's Day Gift # 5: Manta AROMA Mask
Give your Valentine the gift of relaxation and rejuvenating deep sleep! This is the only aromatherapy mask designed, constructed, and optimized for maximum relaxation in any environment. Created to combine the soothing power of lavender aromatherapy with the sensory relief of 100% blackout, AROMA is for you whether you suffer from stress, anxiety, muscle tension, high blood pressure, headaches or insomnia. Featuring 100% pure AAA-grade lavender, its scent lasts 15 – 30x longer than other masks. It also has targeted "scent vents" and is made with soft, durable, snag-free materials. It puts zero pressure on the eyelids or lashes. Retails for $ 33.00 at mantasleep.com.

Valentine's Day Gift # 6: HALOLightPro
Whether it is vlogging, live streaming, or podcasting – lighting and sound quality make all the difference in giving you the professional results you want. Halo Light Pro by ON AIR combines the elements you need for a flawless finish with its multifunctional design. This sturdy tripod stand extends up to 5ft and features a 10 "USB-powered LED ring light. Its in-line remote features 3 light hues and 10 adjustable brightness options so you will be illuminated perfectly in any setting. The high-quality microphone and adjustable stand takes your live audio and recordings to the next level, while the built-in smartphone mount and flexible gooseneck adjusts for the best camera angles every time. Create quality vlogs for your audience with this all-in-one kit! With a tripod, microphone, ring light, and phone holder – what more can you need? Retail Price: $ 99.99. Visit: https://tzumi.com/product/70.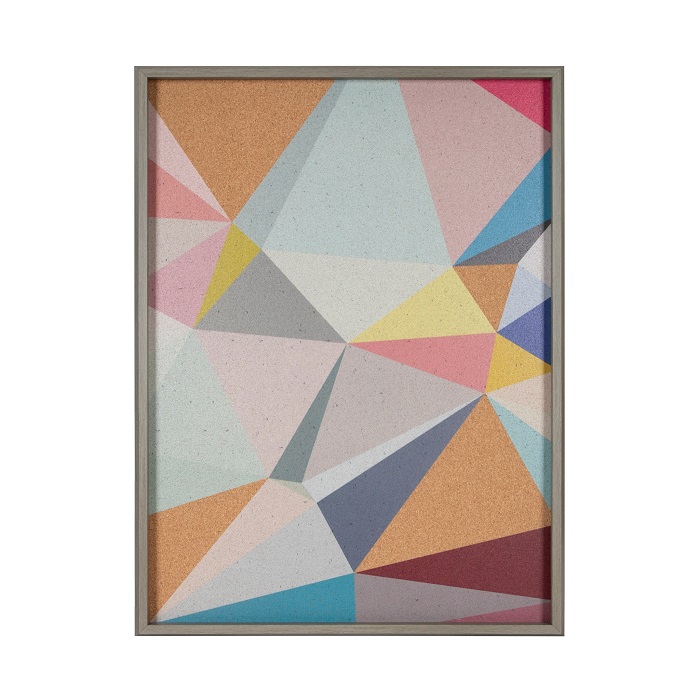 Valentine's Day Gift # 7: Kate and Laurel Blake Happy Retro Cork Bulletin Board
This sleek and gold framed corkboard is perfect to add Valentine's cards, notes, photos, and more from love ones – the perfect accent for any home office. Retail Price: $ 44.99. Visit https://www.instacart.com/products/25409745-kate-and-laurel-blake-happy-retro-cork-bulletin-board-gold-frame-1-33-x-1-67-each.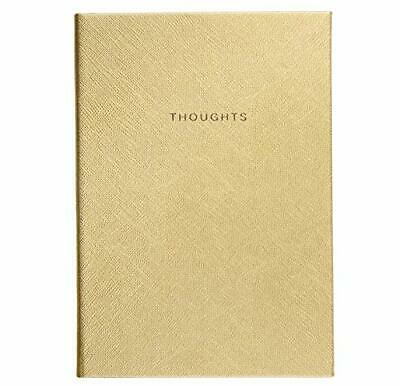 Valentine's Day Gift # 8: Eccolo Gold Saffiano Style Flexible Journal
Gift your significant other this stylish journal to ensure organization and inspiration in the New Year. The small 6 "x 8" and flexible size allows you to take the journal anywhere. Retail Price: $ 10.99. Visit https://www.instacart.com/products/22084392-eccolo-d447s-6-x-8-gold-saffiano-style-flexible-journal-each.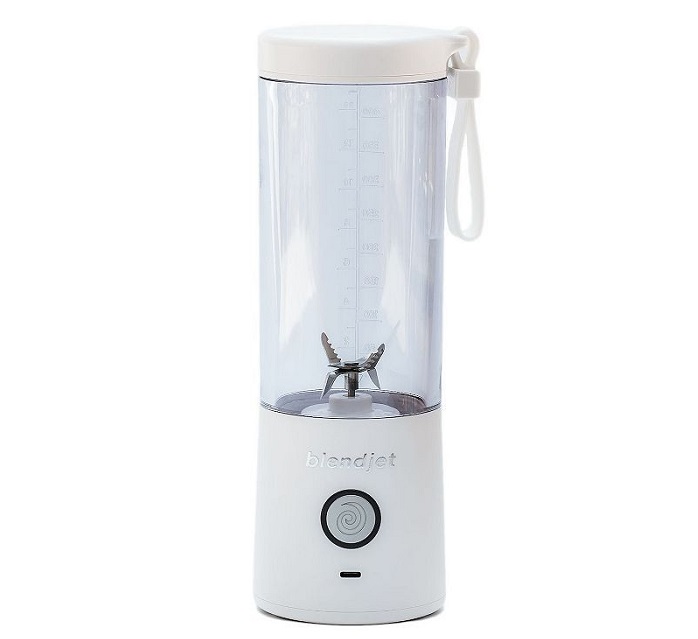 Valentine's Day Gift # 9: BlendJet2 Portable Blender
The BlendJet2 Portable Blender makes smoothie-bar-quality beverages, silky-smooth protein shakes, top-shelf mixed drinks and creamy frozen lattes, plus milkshakes, slushies, baby food, dips, dressings, sauces, and so much more. Make breakfast a breeze, reinvent lunch, fuel your workout or chill with a frozen margarita, all while saving time and money. Get 15+ blends from just one hour of charging with any USB port. BlendJet 2 comes in tons of vibrant colors and patterns. Retail Price: $ 49.95. Visit https://www.blendjet.com.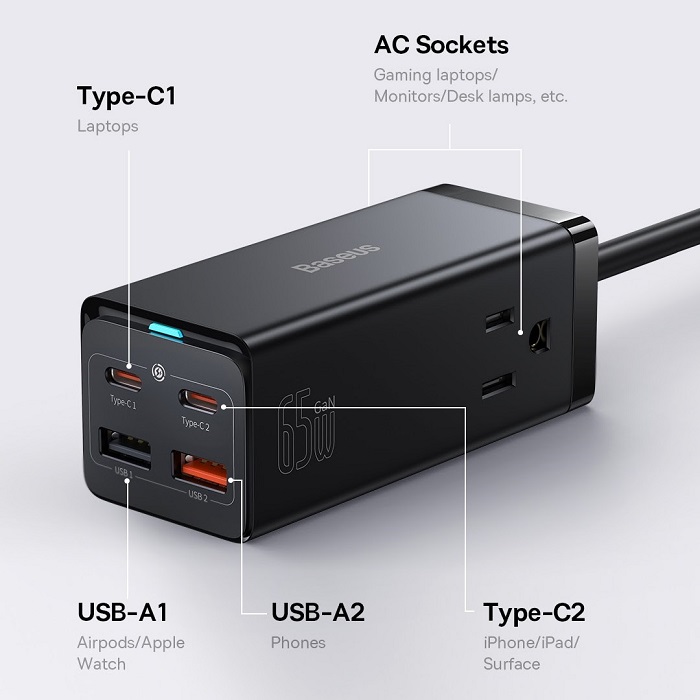 Valentine's Day Gift # 10: Baseus's PowerCombo
This small-but-mighty power strip is the size and design of a standard charger but includes four ports and two AC sockets. Featuring two USB-C and USB-A ports, the PowerCombo can service up to four desktop devices, including low-power gadgets like smartwatches and wireless earbuds, allowing consumers to clear up and create more room on their desk space. The PowerCombo and other products from Baseus (a leading electronics brand for reasonably priced premium electronics) are available for purchase on Amazon.com. Retail Price: $ 99.00. Visit https://store.baseus.com/home.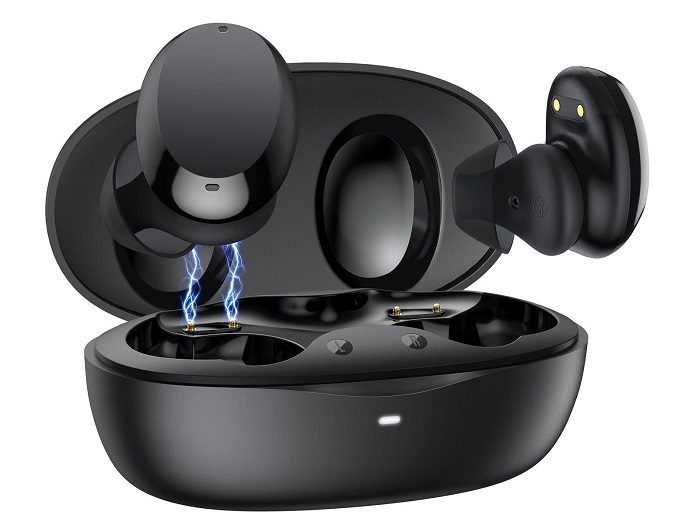 Valentine's Day Gift # 11: Baseus's W11 True Wireless Earbuds
The high-quality wireless earbuds are made with distinct various charging options, digital app preferences and personalization, impeccable sound quality, and comfortably designed ear tips separating them from other earbuds on the market. Featuring 10mm dynamic drivers and built-in environmental noise cancellation microphones, the earbuds suppress outside noise while amplifying the user's voice during calls and bringing high-quality audio for favorite music and games. The W11 True Wireless Earbuds and other products from Baseus (a leading electronics brand for reasonably priced premium electronics) are available for purchase on Amazon.com. Retail Price: $ 60.00. Visit https://store.baseus.com/home.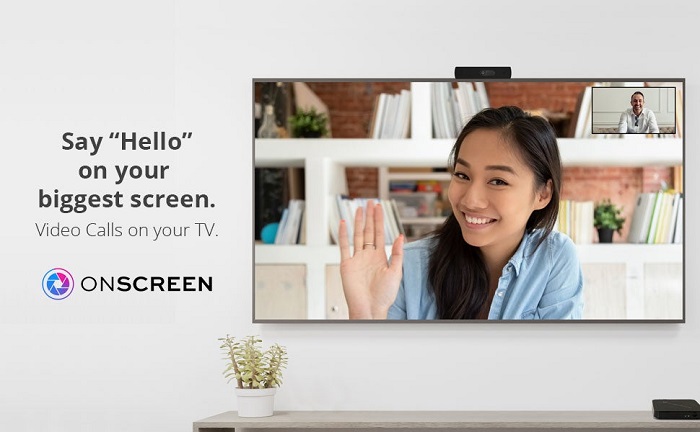 Valentine's Day Gift # 12: ONSCREEN Spark: TV Video Calling System
Be there, even when you can't be, with amazing Zoom meetings and video calls on your TV – all controlled from your smartphone. Zoom meetings and video calls are enabled on the ONSCREEN Spark, providing different calling options for you and your family. Experience the ONSCREEN Spark Smart Camera and take video calling to the next level. Get HD quality video on your TV that is crisp and clear, to make you feel like you are right next to each other. You may not be in the same room, but the ONSCREEN video calling experience will make you feel like you are. The ONSCREEN Spark is easy to set up, and controlled from your mobile device. Retail Price: $ 99.00. Visit https://onscreeninc.com/products/onscreen-spark.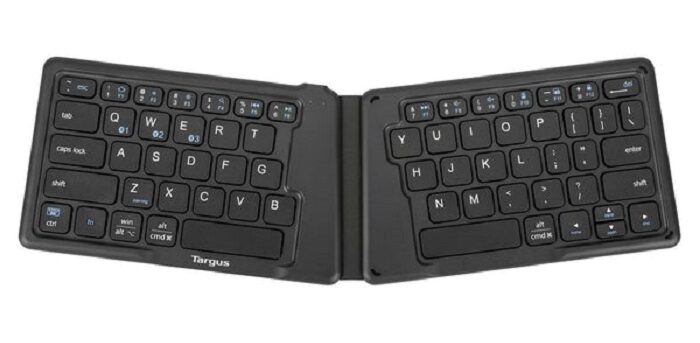 Valentine's Day Gift # 13: Targus Ergonomic Foldable Bluetooth® Antimicrobial Keyboard
This ergonomic pocket-sized keyboard has an ultra-compact, foldable design the same size as one's phone. Simply unfold it for comfortable, convenient typing on the go. Its split, ergonomic design keeps one's hands in a more natural position. DefenseGuard

Antimicrobial Protection * creates a cleaner surface and works continuously to protect the keyboard by preventing the growth of microorganisms. Retail Price: $ 49.99. Visit https://us.targus.com/products/ergonomic-foldable-bluetooth-antimicrobial-keyboard-akf003us.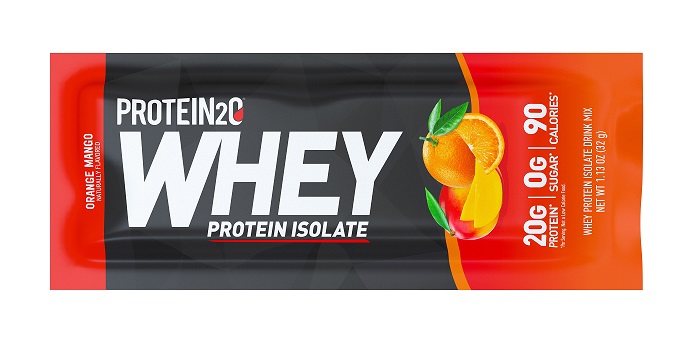 Valentine's Day Gift # 14: On-the-Go Stick Packs from Protein2o
Each keto-friendly stick pack contains 20g of whey protein, 90 calories and 0g of sugar, with no artificial flavors, colors or sweeteners. It comes in Orange Mango. You can throw the convenient packs into your bag for travel, work, the gym, etc. Then just mix with 12-14 oz of water for a perfect on-the-go protein beverage, so perfect for travelers looking for a healthy, protein drink without spending a lot of money. It will launch at Costco but expand to additional retailers through 2022. Retail Price: $ 24.99 for a pack of 20. Visit https://drinkprotein2o.com/.
The post Home Business Magazine's Valentine's Day Gift Guide 2022 PART 1 OF 2 appeared first on Home Business Magazine.