Read Time:
4 Minute, 59 Second
Home Business Magazine Online
A marketplace is a platform where a buyer compares and purchases goods from several vendors at once. The online marketplace acts as an intermediary between the customer and people who offer their goods or services. Today, online marketplaces are some of the most promising e-commerce industries. If you want to build a marketplace website to grow your business, understand that it is not enough just to create a platform. The matter is not limited to this.
To begin with, the process of creating an online marketplace has many challenges. Take into account such issues as idea generation and validation, business model, monetization model, and software platform.
1. Idea Generation and Validation
Initially, start marketplace development by focusing on platform idea generation and validation. You possibly wonder how to validate it. One of the most cost-effective and time-saving ways is to create a prototype.
This way you schematically understand how the platform functions in the future and what kind of feature kit you need to provide. Engage with actual users like groundbreakers to test your idea. These users include your folks, friends, co-workers, business associates, etc.
Once you fully understand that your idea is valuable and relevant for the early adopters, you then turn to the technical development of a Minimum Viable Product (MVP). An MVP is a test version of a software or service with minimum functionality.
The data collected with the help of an MVP enables you to understand whether the project has prospects and helps you to generate new ideas. Moreover, the minimum viable product helps you in devising a marketplace development strategy based not on suggestions but on facts.
According to the data provided by CB Insights, the absence of market need is the main reason why so many startups fail.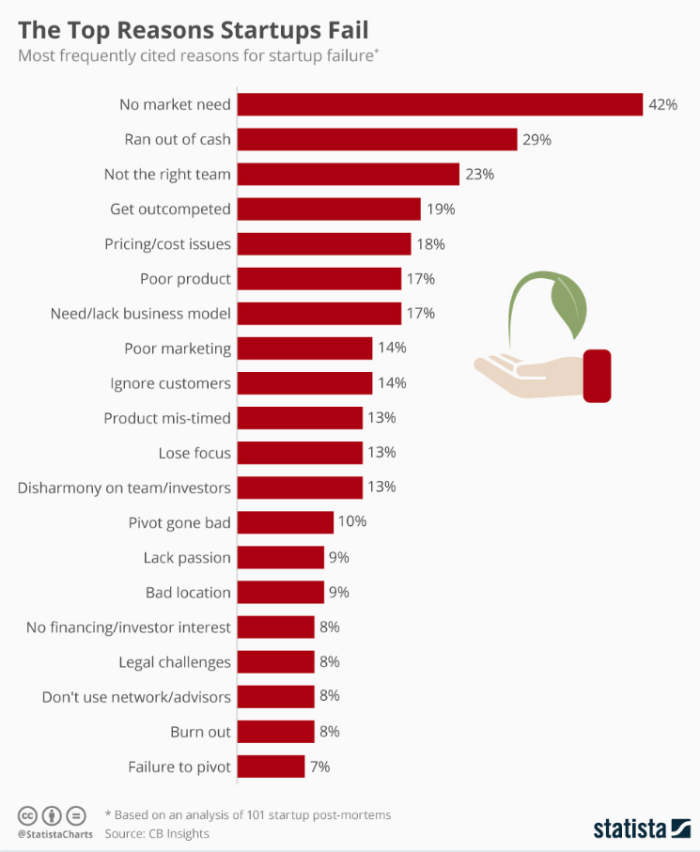 So, it becomes understandable why developing an MVP becomes the primary task for any startup.
2. Choosing a Business Model
Secondly, define your marketplace business model. Here you draw a conclusion on the "who to whom" problem. Marketplace founders need to think about the services or products to sell on their e-commerce platforms.
In respect of it, they decide on the type of platform they want to build, such as Customer-to-Customer (C2C), Business-to-Business (B2B), or Business-to-Customer (B2C). It is essential for selecting revenue strategies and marketing campaigns.
Finally, reviewing all the issues mentioned above enables you to create a marketplace business model.
3. Selecting the Right Monetization Strategy
Next, select the monetization strategy for your marketplace. This issue is the main profit component that allows you to receive compensation for the product or service you provide. Let us discuss the fundamental monetization strategies in the following examples.
For example: The subscription fee for vendors is $ 25 per month.
For example: Buyers pay 8% of the transaction value.
For example: Vendors pay $ 13 for each product listed on the platform.
For example: vendors pay $ 12 for a premium listing, so it stays higher in the feed for a particular time. By the way, featured advertisements are good ways for vendors to promote their services or products and get more visibility within the marketplace.
In addition to these five strategies, there are mixed types of monetization. Initially, you take one business model as a basis and combine it with other monetization methods as your project develops. In the future, you then find a suitable combination that meets the specifics of a particular marketplace.
4. Choosing Between Ready-Made and Custom Software
The right software platform helps you to build exact business logic for your marketplace.
Shortly, there are two main options:
Use the ready-made software; or
Build it from scratch.
Let me emphasize the main points of each solution.
Ready-Made Software
Now there are dozens of platforms that provide turnkey solutions. For example, check these products: Magento, CS-Cart, Shopify, WooCommerce, Yo! Kart, Sharetribe.
All of these platforms are open-source, cloud-based, or self-hosted, and licensed. Get to know each variant and determine how much control you wish over your marketplace development.
Custom Software
This variant is excellent in case you want to launch a marketplace website with your own customized business logic. In this way, you create those features that you wish to see on the platform.
You possibly wonder what the technical solution options are. Below you see the main options:
In-house Development Team
This option is a great choice to upgrade your team and collaborate together with motivated members on your project.
To hire a freelancer or a team of freelance developers, visit such platforms as Fiverr, Upwork, PeoplePerHour, and Freelancer. However, keep in mind that remote cooperation is often challenging.
When choosing a software consultancy, you benefit not only from its technical skills, but also from its business expertise and the experiences of creating similar software solutions for previous customers.
To select an expert software development company, pay attention to marketplace development experience. It is one of the most critical aspects to consider. The fact is that the online marketplace niche requires extensive expertise and years of practice. To make the right choice, check the company's portfolio with its case studies and find customers' reviews.
To Wrap Up
Online marketplace development is a project that requires time, effort, and money. At first, plan your service idea and the features you want to add to your product. After that, go through the stages of prototyping and MVP development to test your idea. Also, continuously improve the web solution.
In summary, creating an online marketplace is quite challenging. Nevertheless, with the growing popularity of online shopping, this is a great business idea that has the potential to bring you incredible profits in the future.
The post Creating an Online Marketplace – The Four Most Common Challenges appeared first on Home Business Magazine.