Read Time:
3 Minute, 53 Second
Home Business Magazine Online
A school is an important place where children learn, grow, and develop. It opens their gentle minds to countless possibilities and fascinating ideas, such as history, values, and the science behind the world. However, have you considered school security before you enroll your children?
Having a safe and secured school is one of the top concerns of every parent. It affects the lives of all people within its four corners, including students, teachers, administrators, and other staff members. After all, their kids spend their entire days in facilities to provide them with not only vast knowledge, but also safe interactions.
If you are looking for an excellent way to improve the school security system, check out sites of reputable service providers, like Fighting Chance Solutions, for more information on the matter.
On the other hand, here are some of the most effective and smartest ways to enhance the school security of your children's school.
1. Secure the School's Perimeter
If you want to secure the school's perimeter, you need to consider its exterior and interior areas, such as the student drop-off zones. Also, do not forget the parking lot, and protect these areas with perimeter barriers. In addition, you incorporate gates and fences to maximize their safety, whether they are closed or in session.
On the other hand, school buses, parents, and carpools need specific areas to easily drop off their children. To ensure security in these areas, use signs and promote school policies that prohibit the passage and entry of unauthorized vehicles. This way, the institution has more control over the perimeter.
Furthermore, you can further improve security around the school's perimeter by installing security cameras in different locations. Ensure that all video surveillance cameras are working 24/7 and monitored by at least one security guard.
2. Light Up the Exterior Areas
Unusual activities often occur in dark places, so it is best to install proper lighting in different locations to protect the safety and welfare of your children. High-quality light fixtures ensure that every area has enough visibility throughout the day. Also, use automated systems to ensure sufficient light in dark and covered areas.
Program these systems to turn on when evening falls or if there is not enough light to ensure visibility around the areas. In addition, set the settings to illuminate areas automatically if there is anyone to avert slip and fall mishaps.
Furthermore, pair your programmable lighting system with surveillance cameras to stop trespassers or those with illegal intentions for a more extensive school security approach.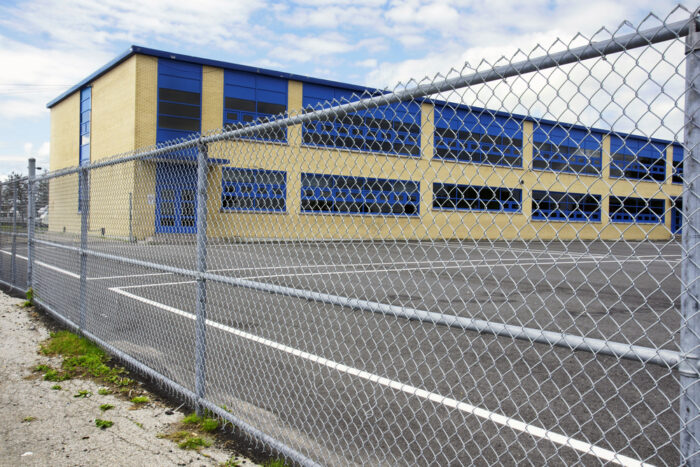 3. Limit Accessible Areas
Limit the number of open entrances for proper and effective monitoring. Implement a single main entrance for all staff, students, teachers, and administrators. Then, keep other ports of entry locked and secure at all times. Also, occasionally, check these areas to ensure that no one tried to open them or tamper with the locks and seals.
In addition, schools need separate entrances for visitors. Install signs redirecting important people to the main access points. This improves the monitoring process so you can easily track people who enter and leave the school's grounds.
Furthermore, make sure that the school has adequate exit points for emergency purposes, such as fire accidents. Also, always keep these exits secure to prevent intrusions.
4. Ensure Other Areas Are Locked
Schools have some areas where people do not often go to, such as the back of schools. Keep these unoccupied areas locked at all times and prohibit possible trespassing.
In addition, establish a system that allows maximum control over all keys and duplicates for all entry and exit points. Also, only permit a limited number of people responsible for placing locks throughout the building.
Furthermore, always test these locks and keys every year to ensure they are all working properly. Replace nonworking locks and keys immediately with new ones.
Final Words
School is essential for children's growth and development. That is why it is important to maintain and keep it safe and secure most of the time. To improve school security, make sure that its interior and exterior areas are secure with barriers and fences. Also, enhance the lighting system to ensure that all areas have sufficient visibility throughout the day. Furthermore, limit and promote special entry points. These monitor people who enter and leave the premises. Moreover, always make sure that passages through unoccupied areas remain locked. Following these simple strategies makes your school more secure than before, and protects not only the children, but also the working personnel.
The post 4 Ways to Improve School Security appeared first on Home Business Magazine.